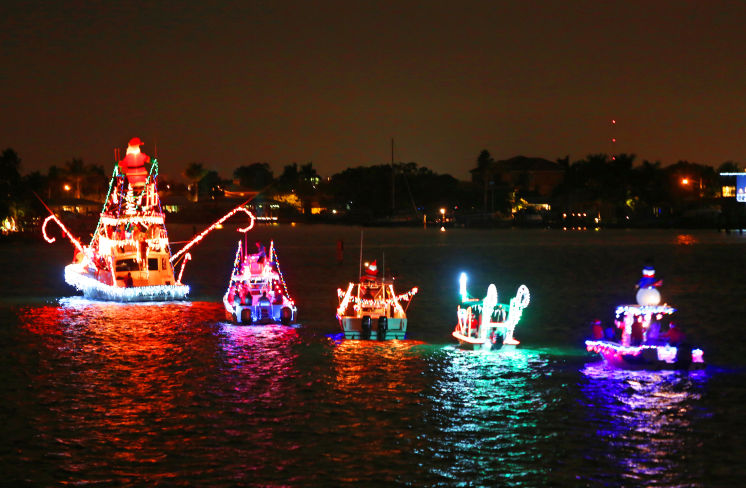 Join Fort Myers with their 34th Annual Fort Myers Beach Christmas Boat Parade! A few years ago they were voted the 5th Best Holiday Parade in a USA Today 10BEST Poll! They were also featured in a TravelAwaits article listing 15 fabulous boat parades in Florida!
The parade will begin at Salty Sam's Marina and pass by the following restaurants on the back bay: Parrot Key Caribbean Grill, Original Shrimp Dock, Matanzas on the Bay, Nervous Nellie's, Bonita Bill's, Dixie Fish Co. and Doc Ford's. These are great places where you can kick back, sip on a nice drink and enjoy the fun!
Other spots to watch the parade are Bayfront Park next to Nervous Nellie's and at the ends of the first two canals in Siesta Isles. Be sure to bring a chair if you go to Siesta Isles.
You can also enjoy the parade by water on the Salty Sam's Pirate Cruise, or the Sight Sea-R Cruise.
The Parade Route
Boats will assemble in front of Salty Sam's (anchorage/mooring field) by 5:30pm. They will leave the mooring field area at 6:00pm with the lead boat showing the way. The lead boat will proceed NW, passing Doc Ford's restaurant. Next they will pass under the Skybridge and follow the San Carlos Island Coast past the USCG station and then enter Pelican Bay. The parade then goes into the eastern most Siesta Isles canal, then the next canal. After the last canal in Siesta Isles the parade will go back into Pelican Bay and then head west towards Bowditch Point. At Bowditch they will head towards Pink Shell. Then they will pass Nervous Nellies with a turn to the starboard to parallel Estero Island. Then they will cross the mooring field and end at Salty Sam's.
The winds and water temperature are also steady. While you may experience some breezy days with eastern winds, the Gulf tends to sit at around 74°F to 78°F.
How To Enter A Boat
Cost is $25 for a non-sponsored boat and $50 for a sponsored boat.
If you want to enter a boat you can register online below, but you must download, fill out and submit the application to us. Alternatively you can also submit the application with cash, check or credit card information for payment.
Call 239-454-7500 or email events@fmbchamber.com with any questions or for more information.